7-Step Guide on How to Plan the Perfect Asphalt Driveway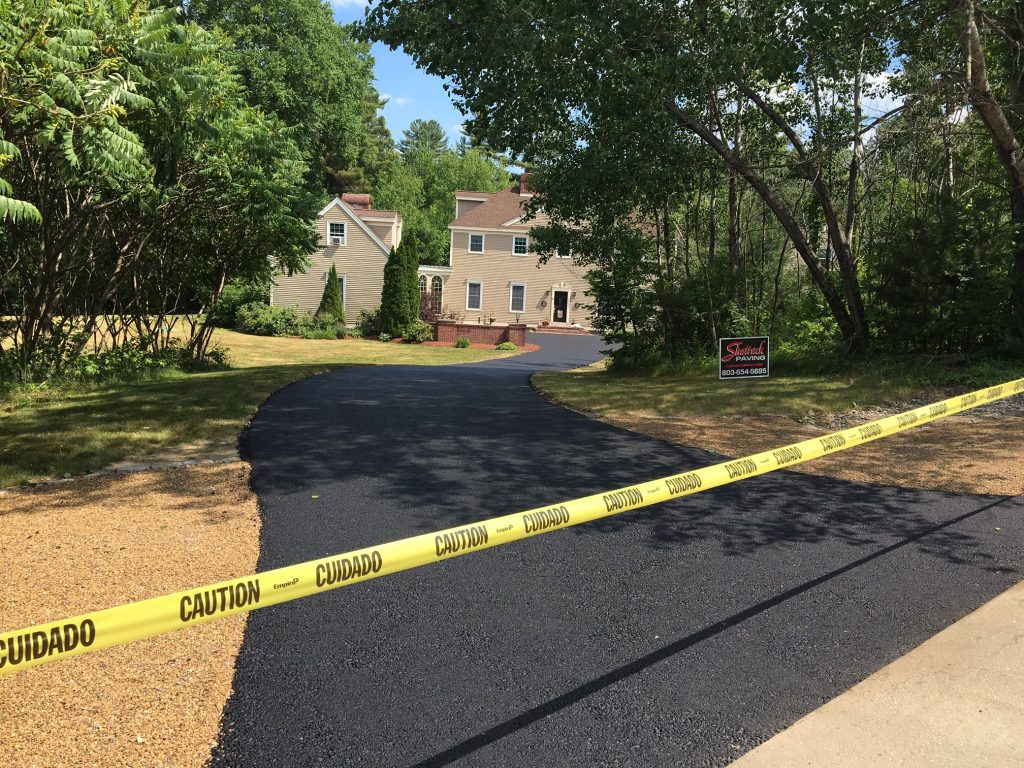 Creating an inviting path to your property may seem like an intimidating project. But any seasoned driveway paving company in Manchester will tell you that it's actually a surprisingly easy one that you, the right professionals, and a day of bright weather can handle.
To ensure a hassle-free process, sit down and meticulously plan the project first. Get ready with a notepad and pen and determine what you truly want and need out of a driveway. This is crucial because once you've established these things, it will become a whole lot easier to organize the project so that it can flow smoothly, and so that costly, time-wasting mistakes can be avoided.
As the trusted asphalt driveway contractors in NH, we're more than happy to share and use our experience and expertise to help you plan the perfect driveway.
Here, we provide an easy seven-step guide to planning a beautiful driveway for your property.
Step 1: Establish your budget.
The budget determines the complexity of your design, the duration of the project (more people working will definitely mean that the project can be completed faster), and the quality of the materials you can use. So check your financial resources and do that math.
Step 2: How big are your cars?
This is a vital consideration in determining how wide your driveway needs to be. If you have an RV or a truck, your driveway needs to be spacious – about 10 feet wide. But if you only have small cars, your driveway can definitely be much narrower.
Step 3: Think carefully about style.
When designing your driveway, you want to make sure that it does not merely serve its primary function of being a nicely paved path for vehicles; you want it to enhance the look of your property as well.
Do you need it curved, or simple and straight, or T-shaped? Do you want to use a special material for the edges of the driveway so it pops out from the landscape? The completion of the project will be more satisfying for you if it manages to optimally boost curb appeal.
Step 4: Consider maintenance.
The different options for driveway materials require different types of maintenance, and it will serve your advantage to compare the amount and cost of maintenance.
For example, if you are leaning toward concrete, remember that it is more expensive and it does outperform asphalt in terms of durability. It also comes in a variety of colors to go with the style of your property. However, you cannot spot-treat a concrete driveway's damaged areas.
Asphalt, on the other hand, is much easier and more affordable to repair. What's more, asphalt conceals stains much better than concrete.
This basically means that if you are not keen on cleaning up stains on your driveway and you want overall maintenance to be less expensive and easier, you may want to reconsider your option.
Step 5: Factor in the climate of your area as well.
There are driveway materials that perform better against weather elements than others. For example, asphalt is deemed the more ideal option in New Hampshire because of the long, cold and snowy winters.
The material is resistant to the cold – it contracts and expands without sustaining serious damage. On top of that, the salt used to melt off ice after a freezing night does not damage asphalt.
Asphalt actually fares well in hot climates too, but it needs to be prepared and laid by specialists to ensure that the quality of the work increases the durability of the material.
Step 6: Do you want to add other elements to your driveway?
Are you interested in installing a gate to make your property more secure?

Do you wish for additional landscaping to transform your outdoor space into an even bigger visual delight?

Do you want to line your driveway with lighting fixtures if there is room in your budget for it?

Are you interested in creating a mini-rotunda with a fountain to improve traffic and aesthetics?
Discuss your answers to these questions with the driveway experts so these can be properly assessed and incorporated into the plan.
Step 7: Find the best professionals for the job
Check your local directory, get recommendations from family and friends, or conduct an online search for reliable driveway contractors in your area for the job. Ascertain that the professionals who will be working on the project are known not only for their paving services, but also for the way they serve their clients.
To do that, check their ratings, customer feedback or testimonials. You will get a better idea of the true brand of service that you can expect from knowing this information.
This guide already covers the most important aspects of a driveway project. It addresses the usual concerns and presents proven effective solutions. If you need even more help in ensuring that you will get the perfect driveway for your home, we at Shattuck Paving are more than ready to serve you. Contact us for inquiries and for a fast and easy quote for your project.