How to Find a Reliable Paving Company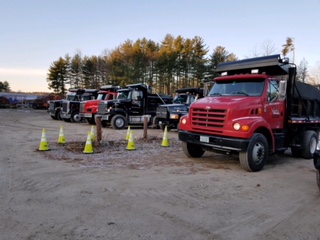 Asphalt paving may seem like a simple job — until you see work that has been done badly. This is something that requires specialization, and only those who fully understand the process and are trained to get the job done right must perform it.
So if you need a new asphalt driveway installation or repair, it makes sense to leave this job only to a certified paving company.
Of course, not all asphalt paving contractors are created equal. The durability and the quality of their work are good indicators of their abilities, but there are also other things you can do to determine which experts in your area to hire.
To help you find a reliable paving company, here are seven steps you should take.
Step 1: Get recommendations
With lots of paving companies to choose from today, especially in New England, determining which paving contractor to work with can be a daunting task. The best way to narrow down your options is to ask recommendations from people you trust, such as your family, friends, and coworkers.
It would also be nice to request information from those who have recently hired paving contractors. If, for instance, your neighbor had just invested in an asphalt pavement installation, check the quality of the job and ask about the paving company they have hired.
Remember that getting referrals will help ensure a good result. You should have at least three possible paving contractors in your list.
Step 2: Check the reputation of each paving company
A reputable service provider is unlikely to perform poorly. In addition to asking your family and friends about the reputation of the company, you should also check their website and read through online reviews.
In addition, ask for references and make sure to visit at least two sites that the company has worked on. Don't forget to inspect how their previous projects are holding up over time. This will give you an idea of how your asphalt pavement will look like and whether it will last.
Step 3: Determine their experiences
Knowing a paving contractor's reputation can help narrow down your list of companies to consider hiring. But before removing any company from your list, you must have comprehensive information about each contractor first in order to perform a fair evaluation.
For instance, ask how many years their estimators or sales staff have been in the industry. This will give you an idea of whether they would be capable of helping you understand the process and handling all your questions. In addition, determine if their installation crew have enough skills and experience.
The best way to gauge the contractor's experience is to ask them several relevant questions. What asphalt mix are you going to use? What type of traffic control will be implemented? Are there necessary permits that must be obtained?
Work with companies that can answer such queries correctly and confidently. This is a good sign that they know their work inside and out and will perform a high-quality job.
Step 4: Check out the services they offer
Paving companies vary in terms of the services they offer. Of course, you must work with a paving company that offers complete paving services – from paving installation to maintenance and repairs to proper drainage installation.
If you are in New England, Shattuck Paving is your best option. We provide paving services to different areas, such as driveways, basketball courts, sidewalks, and parking lots. Most importantly, we are fully equipped to deal with any of your pavement repair and maintenance issues.
Step 5: Obtain quotes
Even if you already have a favorite contractor on your list, it is still imperative that you get multiple quotes on your projects. This way, you can compare the price, project inclusions, and the warranty of each service provider.
Once all quotes come in, you have to rank them based on the professionalism of each quotation, services included, and the price. Also, check for inconsistencies; a bid with unclear points should be disregarded at this point.
Step 6: Study the schedule
A reputable paving contractor must give you a probable start date. Stay away from companies that offer immediate service without taking into account the weather, the work site, and other factors that may affect the quality of the outcome.
As much as you want the project to be finished completed at the earliest possible time, remember that durable materials and quality workmanship are worth waiting for.
Step 7: Get a written contract
You have to insist on getting a detailed written contract before giving out your hard-earned money to the paving contractor. Before signing the contract, make sure that it includes the payment terms, the total cost of the job, warranty coverage, terms and conditions, and the details of the project – from the size of the area to be paved, to the asphalt thickness, to the base specs.
In case you don't understand certain provisions in the contract, don't hesitate to ask for clarifications. You must sign the contract only after you have understood and agreed on everything that is written on it.
Once the job is complete, check if the details in the contract have been properly delivered. Don't forgo even a single item that the paving company has not delivered. Instead, make an appeal and insist on project completion.
When hiring a reputable paving contractor, look for high-quality work, experienced installers, warranty, and fair prices. Remember that working with the best paving company will make all the difference when it comes to the longevity and appearance of your driveway or parking lot.
So remember to choose and hire wisely, and make sure to follow these new asphalt driveway care and maintenance tips to prolong the lifespan of your driveway.